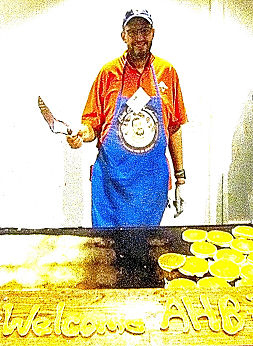 The January 20, 2022 meeting of the Association of Home Businesses will be our first in-person meeting since March of 2019. Doors open at 6:00 pm. Gladstone pancake flipper Sheldon Penner will be serving up his incomparable "Breakfast for Dinner." As Chris Cakes Northwest, Sheldon has prepared breakfast for hundreds at special community and private events all over Oregon. Last year, he made parking lot breakfasts for many wildfire refugees. Join us for AHB's regular third-Thursday meeting on January 20, and he will make "breakfast for dinner" for you.
After breakfast, attendees will be invited to share recommendations for computer and/or or smartphone apps that may be useful for people in business, especially those who are self-employed and/or working at home.
Following tradition, the January 20th AHB meeting will be held at the SMILE Station, located on the southeast corner of SE 13th Avenue and SE Tenino in Sellwood.
The modest asking price for dinner and the meeting is $10. Please be ready to show your vaccination card at the door, and be aware that masks will be required to be kept on indoors, except when eating or drinking. Please RSVP via email at communications@ahboregon.org.