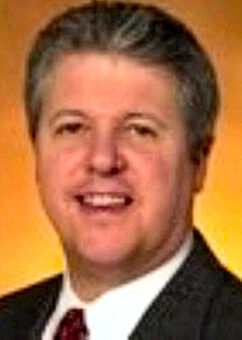 Join AHB on Thursday evening, January 19, 2023, for a presentation by Peter Cantone Jr. (photo at left) of Portland SCORE along with an all-you-can-eat "breakfast for dinner" provided by renowned pancake flipper Sheldon Penner, owner of Chris Cakes Northwest.
The nonprofit SCORE, a resource partner of the U.S. Small Business Administration (SBA), is the nation's largest network of volunteer, expert business mentors dedicated to helping small businesses get off the ground, grow, and achieve their goals. Since 1964, the organization's volunteers have provided education and mentoring to more than 11 million entrepreneurs. Thanks to generous support from the SBA and the selfless contributions of thousands of dedicated volunteers, most of SCORE's offerings are delivered at no cost. Come to AHB's January 19th meeting to learn how your business may benefit from the services and mentoring offered by SCORE volunteers in Portland.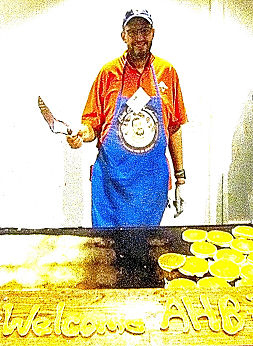 The success of Chris Cakes Northwest is found in its ability to turn standard pancake breakfasts into fun, interactive food experiences where people not only get fed, but get to celebrate the joy and laughter of being a kid again. Chief pancake flipper Sheldon Penner has prepared breakfast for hundreds of folks at special community and private events all over Oregon. In 2021, he made parking lot breakfasts for many of our region's wildfire refugees. In addition to amazing pancake flipping, Chris Cakes Northwest recently expanded into Mobile Grillin' offering large-scale catered lunches and dinners featuring grilled chicken, hamburgers, and/or hot dogs.
The in-person meeting takes place at SMILE Station, located at SE 13th Avenue at Tenino Street (one block south of Tacoma) in the Sellwood neighborhood of Portland. Doors open at 6:00pm and the presentation starts at 7:00. There is a $10 charge for dinner. The meeting is open to the public and may also be attended virtually.
To reserve your spot at the in-person dinner, or to request the virtual meeting link, please send an email to communications@ahboregon.org, or call 503-232-2326.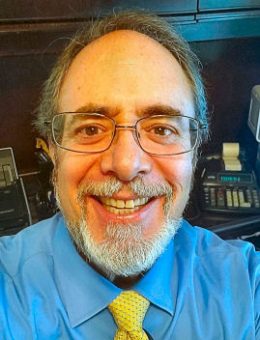 Attention small business owners! You'll want to save the evening of Thursday, February 16, for an up-to-date review of tax tips for freelancers presented by our favorite local tax preparer, Kevin Minkoff, CPA. Kevin will discuss a number of strategies you might employ to lower your Schedule C taxes. Possibilities include covering health reimbursement accounts, employing spouses and under-age-18 children, renting from your spouse, home office deductions, business vehicle deductions, de minimis fringe benefits, business travel, and the smartphone rule. Kevin's informative talks are always followed by Q&A, and his lively presentation style makes tax talk quite entertaining!
AHB meetings are held on the third Thursday of each month. We moved back to in-person meetings a year ago, but have retained a Zoom option for those who prefer attending remotely. There is plenty of space to spread out at the SMILE Station, and masking is optional.
DATE/TIME: Thursday, February 16, 2023. Doors open 6:00pm, dinner served at 6:30, program begins at 7:00.
LOCATION: SMILE Station, S.E. 13th at Tenino (a block south of Tacoma), Sellwood Neighborhood, Portland, Oregon
COST: $10 door fee includes supper; open to everyone.
RSVP: To make sure we have enough food for all who attend, we kindly request attendees to RSVP in advance via email to communications@ahboregon.org or via phone, 503-232-2326. This is a hybrid meeting, meaning people who prefer to join via Zoom are more than welcome to join us as well. When you RSVP, please let us know you plan to do so, so we can send you the Zoom meeting link.
---
AHB 3rd Thursday Meeting Details
Meeting Schedule
Networking starts at 6:00 pm followed by our business meeting and and educational presentation. Learn more …
Meeting Location
S.M.I.L.E. Station
8210 SE 13th Ave
Sellwood Neighborhood
Portland, OR 97202 Map It!
Our Style
We are informal, but professional. Our purpose is to network, learn, share and socialize.
---
Do you own a home-based business? Join AHB today!
Membership is just $60 a year (plus $10 per month for the 3rd Thursday Monthly Dinner Meeting), and is not limited to people who work from home. Whether you are an entrepreneur, solopreneur, Mom & Pop company, or are simply working from home for a traditional business, AHB is a great group to network, learn, and socialize with, and you'll fit right in. Email membership@ahboregon.org to get started.